The OpenScience Observatories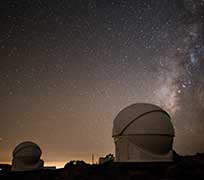 The Open University facilities comprise the COmpletely Autonomous Service Telescope (COAST), The Physics Innovations Robotic Telescope Explorer (PIRATE) and an associated weather station all based on Tenerife.
For more details about Open University courses in Astronomy and Planetary Science see here.
For details about how you can use the COAST telescope as part of a FREE badged course see here.